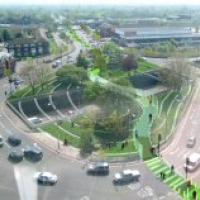 Council unveils scheme to revitalise Tolworth Broadway.
Phase one of the £2.1 million scheme will have three key elements:
Removing the central barriers creating a street layout that removes the dominance of vehicles and makes it easier for pedestrians to cross the road at any point they choose,
Creating a Greenway transforming the central reservation into an eye-catching, uncluttered space where people can walk and cycle, and
The Green Bowl Providing road-level pedestrian crossings and improving the footbridge over the A3 to create a more welcoming space.
Kingston Council is now inviting local residents and businesses to view the proposals, including artists impressions of the scheme, and give their feedback.