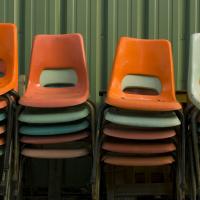 Council asks which schools should be bigger.
"There is now evidence available to us that shows the significant increase in demand for primary places that we have witnessed in the last two years is part of a longer-term upward trend," said Kingston's director of learning and children's services Patrick Leeson.
All parents with primary school and early years aged children have been sent a copy of a summary of a consultation document which will decide where 450 extra places will be created.
The council's executive member for children and young people's services Cllr Patricia Bamford, added: "The final plan will combine the results from this consultation, availability of land for new schools, likely outcome of planning applications and the practical issues of expanding the schools in question.
Consultation meetings will be held from 7-9pm at The Hawker Centre, Lower Ham Road, Kingston on June 1; Surbiton Library, Ewell Road on June 9, The Hook Centre, Hook Road, on June 10 and New Malden Library on June 11.