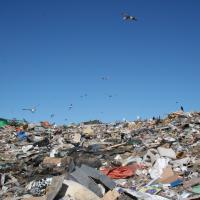 Fortnightly collections set for whole borough.
In the eight months preceding the trial, households in the Berrylands area produced 624 tonnes of landfill waste, but in the eight months since, the amount of landfill waste was just 354 tonnes.
A new waste collection contract for Kingston is due to start in September next year. A council spokesman said: "The results in terms of cutting landfill waste have been incredible and the new waste contract will be similar, but not identical, to the Berrylands scheme.
"Berrylands was a trial. We've listened very carefully to feedback from households involved. We know there are problems and we will be introducing changes."
The alterations will include providing biodegradable corn starch liners for kitchen waste bins and giving out larger wheelie bins for non-recyclable waste.
A Special Neighbourhood Committee Meeting to discuss the results of a recent consultation and to look at the recycling and refuse collection options available to the council is to take place on Wednesday 21 November.