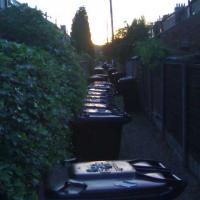 Berrylands recycling scheme to go borough-wide.
The new service will be rolled-out from 1 September 2008 and will allow residents to recycle a wider range of materials that will be collected more often.
With so much being recycled and food waste still being collected on a weekly basis, the amount of landfill waste (refuse that cannot currently be recycled) households throw away will be dramatically reduced and will therefore only need to be collected once a fortnight.
Councillor Liz Green explains the financial situation: "Kingston Council, along with every local authority in the country, has been set a very challenging target by central Government of achieving a 65% reduction in the amount of biodegradable waste we send to landfill by 2020."
The amount of waste recycled using the green box in the Berrylands Trial area has more than doubled, and the amount of waste sent to landfill has almost halved. The Council has learnt some valuable lessons from the Berrylands trial which have influenced the design of the new service. For example some Berrylands Trial residents said that the wheelie bin used to store their landfill waste is too small. So, the size of the wheelie bin used borough-wide will be increased from 140 Litres to 180 Litres.