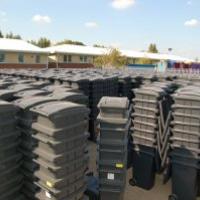 Borough-wide roll-out of new waste collection service begins.
Over a period of 10 weeks, recycling containers and wheelie bins will be delivered to the 50,000 houses, converted flats and maisonettes that will soon be part of the new Recycling and Landfill Waste Collection Service.
A letter is being posted out to every household involved in the new collection service notifying residents of when their new containers will arrive.
Households involved in the earlier phases of the roll-out have already received their Service Information Booklet and confirmation of when their containers will be delivered. The 5,500 households in Phase 1 will receive their new containers this week (commencing 22 September), with their new and improved recycling collections starting from next week (commencing 29 September) and their first landfill waste collection the week after that (commencing 6 October).
Properties in the later stages of the roll-out, including all those involved in the Berrylands Refuse and Recycling Trial, have not yet received the first piece of communication material asking whether they want to request a green box or an 'extra large' wheelie bin. This will be sent out in the next two weeks, with the more comprehensive Service Information Booklet following a couple of weeks after that.