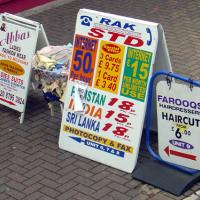 Traders told to remove advertising boards.
A council enforcement team worked its way along Victoria Road this week, but small businesses said it was cruel to take away their main source of advertising at a time when trading conditions were so dire.
Tolworth Broadway was chosen as the first area to send in inspectors in December last year and after seven days all A-boards had been removed by traders.