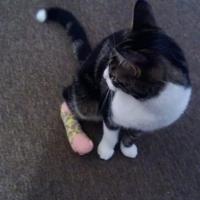 Missing Cat: Would you kindly help find Buddy?
Buddy - Adult Male - 2 years Old, Newtered - Grey and Black Tabby with a White belly.
Pictured here (an older picture from an injury one year ago) has been missing since Saturday the 8th August from Lovelace Road in Surbiton.
He has never missed a meal so naturally his owners are concerned.
If you would be so kind as to check any sheds / garages for him - he's very vocal and responds to whistling.
If you have seen Buddy - Please get in touch with me via this website - we would very much like to have him back home safe.
He is chipped - and so far has not appeared at any local vet - with no trace of him locally since Saturday.
Thank you kindly.
Nathan.