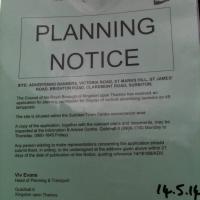 Planning notices have been put up around town as the council plan to use the 49 new lamp posts to hang advertising banners.
As a resident of Victoria Rd living above a shop, this will be the view from my living room window. This area is part of Surbiton Town Centre Conservation area - do you think that this new advertising is appropriate?
I feel like we already have more than enough advertising to contend with in our streets and extra banners will not be welcome. Once they are agreed there will be no taking them down again, will the income for the council be worth it for the residents?
What do you think?
If you want to object, you need to write to Guildhall II quoting ref: 14/16189/ADV
p.s. I complained to the council about the previous EDF Olympic banners and I never got a response - this was hung right outside my window for months - very annoying!