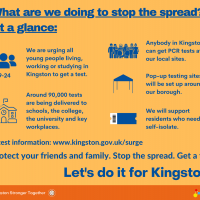 Cases of coronavirus in Kingston are rising sharply. To stop the spread, surge testing is being introduced in Kingston for 3 weeks from today, June 9 2021.
This is linked to a broader national increase seen in the Delta variant (formerly widely referred to as the 'Indian variant'). We need to act now to stop the spread, and keep our borough safe.
Kingston Council are stepping up their testing and vaccination programmes for a period of three weeks from Wednesday 9 June, as well as supporting those who test positive through providing practical and financial help to self-isolate.