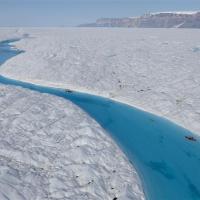 Feel the chill as you explore the Arctic's threatened landscape, and the wildlife and communities that inhabit it at our exhibition in Kingston Market House during climate week (Friday 16th & Saturday 17th March).
Tales of the Arctic covers some awe-inspiring images of the unique wildlife and ancient cultures set to become extinct. The threats from commercial interests that continue to lobby governments to reduce emissions targets. To those corporations waiting for the ice to melt to begin extracting what lies both in the sea and under the seabed.
Each tale looks at one part of the Arctic saga, through some of the award winning photo-reportage from Greenpeace, as well as a selection of the best short films & images produced by their supporters in response.
The final tale is yet to be told… To save this hauntingly beautiful landscape, in the coming months and years we need to campaign boldly - and successfully. This is going to need a lot of help from you. So the final exhibit asks you: What do you think Greenpeace should be doing to save the Arctic?
The event is free - register here (http://arctictalesexhbition.eventbrite.co.uk)