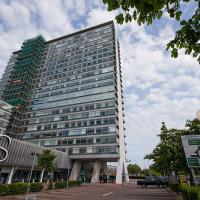 Boris thinks regeneration plans worthy of recognition.
Beating off competition from 125 development programs across Greater London, the renewal works will be supported by the resources of the London Development Agency and benefit from design advice from Design for London, as well as recognition for setting the standard for public spaces in London.
Councillor Simon James, Executive Member of the Council for Planning and Regeneration, said: "As well as revitalising the local area it is fantastic that this development is being recognised as setting the standard across London."
Once the Tolworth works are completed the projects will be assessed by the panel and if judged to be a success, celebrated with "The Mayor's Great Spaces" award.