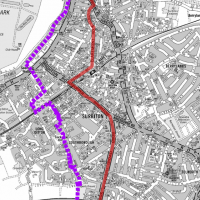 The route that the Olympic Torch will take through the Royal Borough of Kingston upon Thames has been confirmed by LOCOG (the London Organising Committee for the Olympic and Paralympic Games).
The Torch will start its journey at 8.22am on Tuesday 24 July at the Hook Centre, Chessington. It will travel down the Hook Road (A243) and Upper Brighton Road before turning right into Victoria Road (Surbiton town centre). It will turn left at the roundabout outside Surbiton train station, travelling down Claremont Road, Surbiton Crescent and on to Penrhyn Road; past Kingston University, Surrey County Hall and Kingston College.
At College Roundabout the Torch will turn left onto Kingston Hall Road and then right on to High Street, moving past the Rose Theatre and Kingston Guildhall. It will then travel through the Market Place before joining the one-way system and heading out of the Kingston town centre along Richmond Road. The Torch will be handed over to Richmond at approximately 9.45am near the junction with Tudor Drive.