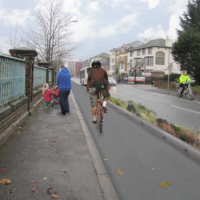 Innovative plans for Portsmouth Road will remove conflict between cyclists and cars, deliver benefits for all road users and enhance one of the jewels in Kingston's crown: The Queen's Promenade.
A £3.26 million scheme that will remove conflict between cyclists and cars on one of Kingston's busiest roads whilst improving access to a popular riverside walk has been given the green light by local councillors.
Funded through the Mayor of London's mini-Holland Programme, the Portsmouth Road scheme will see the implementation of a number of innovative ideas that will keep cyclists safe and keep traffic moving. These include:
600 metres of 'fully-segregated' two-way cycle track, providing complete separation between cyclists and motor vehicles
700 metres of 'lightly-segregated' cycle track to provide partial separation between cyclists and motor vehicles, potentially using 'Armadillos' or similar innovative products
Shared cyclist and pedestrian crossing points
'Floating' bus stops that allow cyclists to safely negotiate buses when they are picking up or dropping off passengers
The Portsmouth Road scheme has been developed in consultation with local residents, with over 700 people feeding into the design. There was widespread support for the scheme and 57 per cent of respondents said they would be encouraged to cycle and/or walk more along Portsmouth Road following the work. Feedback on the initial design proposals showed a clear desire for more segregation between cyclists and motor vehicles. The designs were revised in light of that feedback and segregation has been increased from 20 per cent, to 85 per cent.
The revised scheme designs were approved by Members of Kingston Council's Infrastructure, Projects and Contracts Committee on 25 June 2015. Work will now start on the detailed design stage and construction schedule. This schedule will take into account a number of factors, including reducing the impact of construction on local residents and businesses.
Further information about the Portsmouth Road scheme and Kingston Council's 'go cycle Programme' is available – see go cycle.