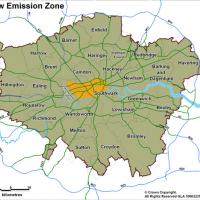 Air polluters kept away from most of Surbiton.
The new London Emissions Zone comes into effect today, but those West of Brighton Road and Hook Road will have to hold their breath as they're not included in the new scheme.
The £49m scheme uses cameras to check all lorries over 12-tonnes entering the zone against a database of vehicles certified as meeting EU exhaust limits.
The most heavily polluting lorries are facing charges of £200 per day to enter. Firms whose vehicles are not on the database will be told to pay up.
The rules, aimed at improving London's air quality, will be extended to cover buses and coaches in July.