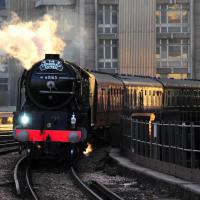 Journey times slower than before the war.
A study carried out by the London School of Economics has found that millions of rail passengers are getting a slower service now than their counterparts were 70 years ago.
Tim Leunig, reader in economic history at LSE said, "The news that some commuter services are slower than they were in the closing years of the age of steam will not be welcomed by passengers suffering horrendous levels of overcrowding and paying sky high fares.
"While there might have been some journeys which were on paper faster before the war, they were not as dependable nor was there the frequency and choice of services that there is today."
For example a trip from Surbiton to Waterloo took 17 minutes before the war, while last year the same journey was two minutes longer.