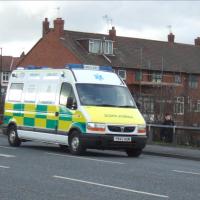 Tolworth Girls pupil now recovering in Kingston Hospital.
The Tolworth Girls' School pupil is thought to have broken her arm and leg after being struck by the car in Thornhill Road at about 6pm last night.
Thornhill Road residents had complained to Kingston Council the 20mph speed limit was being ignored and are now planning to start a petition to increase road safety.
Update:
The girl, named as Lauren O'Connor, is facing operations on her shoulder and arm after the incident on September 23 but she expects to go back to school part-time next week.
Mother Lisa O'Connor, who lives in nearby Sunningdale Close said, "The car's driver is in a bit of a state. It wasn't her fault. Lauren did walk out in front of the car. It is a busy road. There's a lot of schools with children running around and the only crossing is by School Lane. There's traffic islands but no crossings."