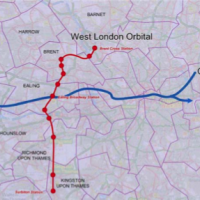 Business group dreams of £2bn robot subway link to Brentford.
The plan is the brainchild of West London Business (WLB), a sub-regional Chamber of Commerce representing the business interests of more than 20,000 companies across the Boroughs of Brent, Ealing, Harrow, Hillingdon, Hounslow and Hammersmith and Fulham. They claim the new route will potentially save west London from gridlock, economic stagnation and decay, and could be open in just 20 years.
Running between Surbiton and Brent Cross, the proposed West London Orbital would feature driver-less trains and pick up passengers every three minutes from mini underground stations at rush hour.