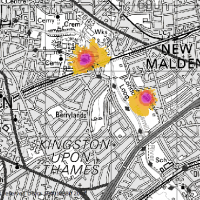 Tolworth Rise is officially loudest place in town.
Recent figures released by the Department for Environment, Food and Rural Affairs (DEFRA) show a small stretch of the A3 on Surbiton's border with New Malden as having the highest road noise levels in the area.
According to the maps, generated by computer modelling, there are only two sources of industrial noise in the area; the Hogsmill Sewage Works and a mysterious location across the border from Berrylands in New Malden. The map suggests the source of the noise is Windsor Avenue, a residential street. Theories as to what may be causing this industrial level of noise range from a neighbourgh tuning their motor bike, to a particularly exuberant crowd of spectators on the LSE sports ground opposite.