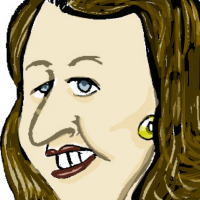 Perhaps it was only a matter of time before The Good Life got a mention here—after all, apart from having a prominent mainline station, it's Surbiton's only real claim to fame (The Good Life is much funnier than the station, anyway)—and in light of this week's new BBC2 televisual feast, 'Giles and Sue Live the Good Life', to mark the sitcom's 35th anniversary, it seemed not just fitting but practically essential that it is this week's topic.
I may be a generation too young to have beheld its original broadcast in 1975, but that didn't stop my mother from sitting me in front of it on VHS as a child.
'It's about Surbiton!' she chirped proudly, and I definitely didn't believe her. The Surbiton I knew bore no resemblance to the one portrayed on screen: none of my friends' parents kept goats or delivered piglets in their gardens, or spoke with such perfect, clipped English, or had amusing escapades whilst under the influence of pea-pod burgundy (at least not to my innocent, juvenile knowledge).
And to this day it still bears no resemblance to our Surbiton. No one has turned their garden into an allotment. No one talks in such a terribly super way anymore. In fact, The Good Life wasn't even filmed in Surbiton, it was filmed in Northwood, Middlesex. So The Good Life bears absolutely, categorically no resemblance to Surbiton whatsoever.
Or does it?
Come on. I think, even if we really don't want to admit it, we know that there's one aspect of the sitcom that still lives on in Surbiton: the great and mighty Margot Leadbetter.
If we're honest, perhaps we all have the odd Margot Moment. I definitely have Margot tendencies, possibly inherited from my mother, who once phoned an oven cleaning company and trilled 'I'm from Surbiton and I'd like my oven cleaned', as though that would somehow elevate the service she received. (It didn't.)
I have been known to run after people with newspaper for their dirty feet, or grimace at particularly uncivilized behaviour, or wish someone 'Yuletide felicitations'; and this sort of—I refuse to use the word 'snobbishness', as it is uncouth—keen refinement, shall we say, is still very much alive in Surbiton.
As one person commented on my Halloween story, his son returned home from trick or treating with, amongst the Haribo, chocolate and sweets, the odd sesame seed bar and organic fruit stick. One can imagine a Margot-esque lady peering disdainfully down at this small ghoul appearing at her door and, after sternly telling it to get off her carpet, plucking a sesame seed bar from the bowl of such nourishing treats on her work-surface, and offering it to the child with the austere words 'I think you'll find these are kinder to the enamel', before shooing it away and sweeping all ghoulish traces from the front step.
Attitudes towards the 99p Store are a fine example of Margot's legacy in Surbiton. The uproar that ensued upon the announcement of its replacing Woolworths (despite the evident similarities between the two) rivalled the French Revolution in scale and roars for blood. Cries of 'There goes the neighbourhood' echoed through the high street, cannons blasted, people waved torn flags and burned multipacks of unbranded cola, bodies littered the pavements...
Well, almost. And, interestingly, most Surbitonians have now embraced it, judging by the fact that it is nearly always busy. However, there are still a few Margots who ensure they take their Marks and Spencers or Waitrose bags in with them, to avoid having to walk about in broad daylight with a 99p Store carrier bag. These Margots are the people who look shiftily about themselves, who have a guilty, slightly frightened expression on their faces; who catch your eye, then quickly look away. In short, they look like they're shoplifting. Don't worry, they're not shoplifting, they're just very respectable people who hope no one catches them in there.
I witnessed a wonderful Margot Moment a few weeks ago, when a woman asked the girl behind the rotisserie chicken counter in Waitrose 'Do you do pigeon?' The girl stared blankly, then said 'No, just chicken'. The woman tutted and muttered 'This place has really gone downhill.' (Did Waitrose ever do pigeon on their rotisserie chicken counter?)
I wish I could comment on the self-named 'Maple Village'—or as non-residents of the village call it, 'Maple Road'—but unfortunately I can't, as I am guilty of the same Margot-esque behaviour. I used to live in Ditton Road, and was goaded by my friends who vehemently informed me I lived in Tolworth, and I equally vehemently proclaimed I lived in Surbiton, despite the fact there was a sign outside my house that said 'Welcome to West Tolworth'. (Fortunately, this sign was later moved two roads back—someone obviously realised their hideous mistake.)
If you're a Margot, be proud. If you're not, be proud. Margot would wish that fellow residents of leafy Surbiton maintain her high standards, and if this means making unreasonable demands in supermarkets, chasing your guests with a dustpan and brush, refusing to understand crude jokes, or ordering your Christmas in a van, then so be it.
After all, we are the silent majority.